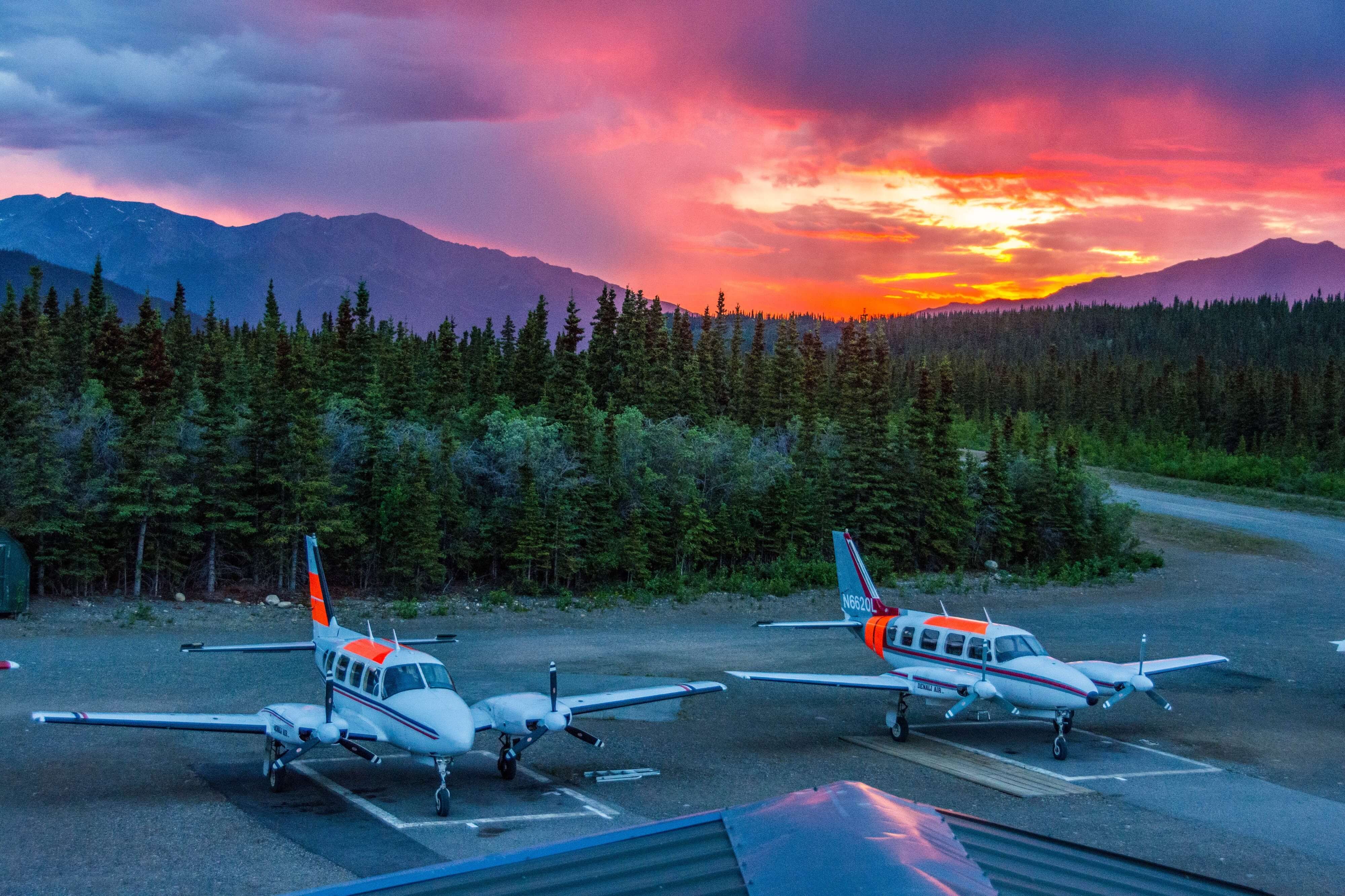 Denali National Park attracts hundreds of thousands of visitors every year, and for good reason: the massive park is home to some of the most beautiful landscapes in the world. Thrillseekers and bucket-listers alike flock to the park just to get a glimpse of North America's largest mountain, and thanks to Denali's robust hospitality industry, visitors can enjoy the rugged splendor of the Alaska Range in all kinds of different ways.
In honor of our inaugural blog post, and because it's impossible to do everything Denali has to offer during just one visit, we thought we'd highlight a few of our favorite off-the-beaten-path attractions. Denali's business district is chock-full of restaurants, shops, and lodging, but there are some incredible hidden gems just beyond the park boundaries, and we hope you'll take some time to check a few of them out — you'll be glad you did.
Lodging
 Denali is home to several beautiful hotels and a boardwalk that is replete with souvenir shops, ice cream, and restaurants. As you can guess, many guests enjoy the bustling summer scene of Denali's business district. But if it's peace and quiet you crave, you'll find several amazing options along the George Parks highway, just south of the park entrance.
Denali Grizzly Bear: The Denali Grizzly Bear Resort is located south of the park entrance on the George Parks highway, and is a family-owned resort that has been in operation since the sixties. Grizzly Bear offers hotel accommodations and cabins rentals, along with RV and tent sites.  Its wooded location right on the Nenana River makes it the perfect spot for a truly Alaskan vacation.
Denali Park Village: The Denali Park Village, located along the Nenana River and just across the road from the Grizzly Bear, is the perfect in-between for travelers who enjoy the luxury of a large hotel, but also crave the solitude of nature. The Village offers a true resort experience, along with its own selection of restaurants, nightly entertainment, and many educational activities.
Tonglen Lake Lodge: Tonglen Lake Lodge is a unique, luxury lodge located just seven miles from the park entrance. Tonglen Lake features hide-away cabins decorated with handcrafted log furniture, and there's always a robust schedule of artists, performers, and workshops, all for the enjoyment of Tonglen's guests.
McKinley Creekside Cabins: McKinley Creekside Cabins offer the ideal lodging for hikers and wildlife enthusiasts. With many trails that start right out the back door, guests can hike to their heart's content and enjoy the peace and solitude of Creekside's remote but accessible location.
Denali Mountain Morning Hostel: Denali's only hostel is an excellent option for travelers looking for comfortable, affordable lodging. Mountain Morning offers a variety of different lodging options, and guests looking for a unique Alaskan vacation will appreciate Mountain Morning's quiet location and friendly, welcoming staff.
The Grande Denali Lodge: If you're looking for a unique lodging experience, but you still want close proximity to shopping and dining options, the Grande Denali Lodge is your answer. The Grande sits high up on a hillside and features incredible views of Mount Healy and the Nenana canyon.
Dining
When it comes to food, Denali's tourist district and boardwalk host many excellent restaurants to choose from. But just up the road, adventurous travelers will find even more tantalizing options.
229 Parks: If you're looking for fine dining during your stay in Denali, 229 Parks is the place to be. The restaurant is housed in a beautiful handcrafted log cabin style building.  The menu features fresh, locally sourced fare expertly prepared by 229's award-winning executive chef, Laura Cole, and her team.
Prey Bar and Eatery: Stop in at the cozy Prey Bar and Eatery for dinner, drinks, and a friendly, welcoming vibe. Prey is located on-site at Denali Cabins, and its comfortable dining room features a stone fireplace that makes Prey a choice destination at any time of day.
Creekside Cafe: Creekside Cafe, located on-site at Creekside Cabins, is the perfect stop for home-style food and desserts. At Creekside, you'll find classic breakfast offerings and espresso (not to mention cinnamon rolls as big as your head), burgers, sandwiches, and all kinds of tasty treats from the dessert case. And, if it strikes your fancy, you can sip your coffee from the new gazebo perched right alongside picturesque Carlo Creek.
The Perch and Panorama Pizza: The Perch Restaurant and Panorama Pizza are staples for visitors looking for good food away from the bustle of Denali's tourist district. The Perch is a comfortable, family-style restaurant.  It's second-story dining room features bay windows that look out onto a pristine mountainscape. Panorama Pizza, located next to Carlo Creek, is the place to go for excellent pizza.  If you want to play foosball or toss bean bags, they've got you covered on that, too.
Tonglen Lake Artisan Cafe and Bistro: Located on the Tonglen Lake Lodge property, Tonglen Lake Artisan Cafe and Bistro is a favorite among locals and tourists alike. Enjoy locally roasted coffee and house-made breakfast goodies from the cafe in the morning, and indulge in selection of artisan drinks and entrees (and desserts!) from the bistro at night. 
49th State Brewing Company: Just up the road from Denali's business district is a tiny town called Healy, home to 49th State Brewing Company. 49th State makes some of the best beer in Alaska, and it's just a short shuttle ride from the boardwalk. On top of great beer, they've got a full menu, a fire ring, and they've even got the bus from the "Into the Wild" movie set.
Hiking
Hiking is a perennially popular activity among visitors touring Denali National Park. There are many  incredible trails outside of park boundaries, too, and you don't have to be a naturalist or a back-country pro to enjoy them. Some of our favorite trails start just up the road from the Denali Park Village and the Denali Grizzly Bear hotels.  Their easy access make them an excellent choice for an exhilarating day hike that will leave you energized and satisfied.
Triple Lakes Trail: The Triple Lakes is a beautiful hike that is popular with locals and visitors alike.  Hikers have the choice of hiking the full 9.5 mile trail or walking part-way to the first lake and then turning back for a shorter hike (approximately 2 miles round trip).   The trailhead begins at mile 231 of the George Parks Highway (just across the Nenana River from the Grizzly Bear hotel), and ends at the Denali Park visitor center.  With a gradual elevation gain of up to 1000 feet, this trail is demanding the the views are very rewarding.  Whether opting for the full hike or the shorter trip to the lakes and back, the views are stunning, and hikers will not be disappointed.

Oxbow Trail: The Oxbow trail is much shorter than the Triple Lakes trail, and it does not feature significant elevation gain.   It's a great option for a quick, easy hike. The 1.7 mile loop starts just across the street from the Triple Lakes trailhead and features mossy trails and several river abutments that are absolutely perfect for admiring the Nenana River.
Pro-tip: If you're not quite ready to strike out on your own, opt for a guided hike. The pros at Denali Backcountry Guides can tailor a hike that's fun, safe, and informative, and you'll enjoy the added benefit of hiking with a seasoned Alaska trail guide.
So there you have it: some of our favorite destinations for an off-the-beaten-path Alaskan experience you'll never forget. We absolutely love Denali, and we sincerely hope that you do, too. Can't wait to meet you this summer — cheers to 2018!